The evolution of Luna the slip joint knife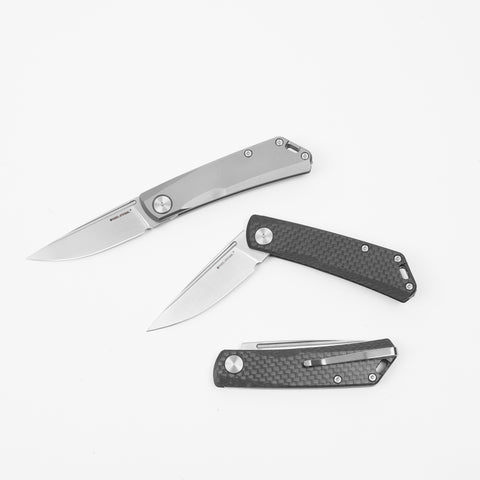 Luna - a very recognizable name for a lot of people. For us when this knife came to our drawing board from Jakub at Poltergeist Works we were also not 100% about it. Back then at the back end of 2019, we were sure we wanted to do a slip joint, but we had a lot of options to play with, Ostap Hel had the Gslip which was also a forerunner for first place slip joint. We had another few designers who were interested in bringing a slip joint design to us. But the Luna won out. Once the design was settled upon we started Real Steel Knives' first slip joint knife. Choosing this knife was not a hard task, but choosing the configurations for it was - just one - titanium TC4 body with Bohler N690 blade - SKU 7001.
We decided not to do any other variants as the simplicity of bead blast titanium with satin-finished Bohler N690 blade was everything this knife needed. And so we made a tonne of them and the outcome of this was that they sold out in no more than two weeks. This was the quickest turnaround of a knife we had seen since the G5 Metamorph and further back than this the E801 Megalodon. So what was it that made the Luna Titanium such a contender, such a winner with knife enthusiasts and Real Steel fans? We can't say for 100% why, but we know that two of the biggest reasons were first, the super-thin blade and secondly the featherlight weight of the knife. These two components made the knife a forerunner in the EDC category, with EDC knives demanding functionality all-around usability. It is then no surprise that after this first batch was out and in the hand's people who loved it we embarked upon the Luna Premium project.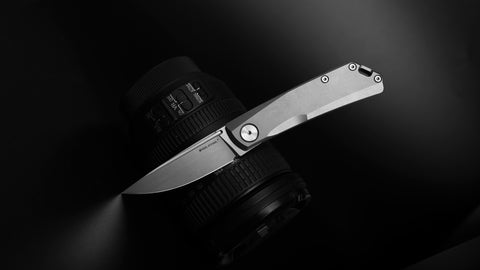 Luna Premium was bouted to be the upgraded version of the original with upgrades in material but also one major change the clip. The clip was a problem in the first batch of Lunas as it was not as strong as we wanted it to be. We made several restock batches to dealers after this for people who had had issues with their clips. As for the material changes on the Luna Premium knife, we went for a Crucible S35VN blade and two shades of Micarta for the handle, and a CF option for the tactical lovers out there. We also upgraded the small parts, with titanium body screws and titanium pocket clip screws.
This model hit the market in early 2020 and like the original 7001 Luna Titanium model that went before it also sold out in a matter of days. During this time we decided that a more budget-friendly option would be a great option for everyone, especially with Covid just breaking out, people in lockdown, having restricted mobility, maybe that 200 dollar knife was just not that important anymore.
The budget-friendly version of the original was to be called Luna LITE and would comprise of only G10 handle models with D2 tool steel. The Luna LITE was to comprise several custom models picked by Real Steel dealers. The G10 colors we had ranged from red, blue to pink, GITD, and purple. Every color in between made an appearance. By far the stand-out piece was Knife Centers white G10 black blade model named Luna LITE Imperial by ourselves. At the time it seems as every Real Steel dealer had their very own individual Luna LITE, Boker had green G10 with a black blade, Heinnie Haynes had red G10 with a satin blade, White Mountain Knives had jade G10 with the satin blade.
Last year the Luna was everywhere. This time it wasn't just the blade thickness and the super-light feel of the knife, it was not the huge variety of colors to choose from combined with an extremely low budget price. The price was kept the same everywhere from the US to Germany, Russia to the UK, dealers exclusives but all at the same price. Further exclusives came with high-end Balbach Damascus and our very own VG10 Damascus blades. During this period we also supported smaller outfits like Rivers Edge Cutlery who we made a Golden Ebony handle with a D2 blade, in our opinion possibly one of the nicest looking Lunas out there. Altogether we made over 19 individual dealer customs exclusives, a list you can find below along with our own in-house Luna LITE colors.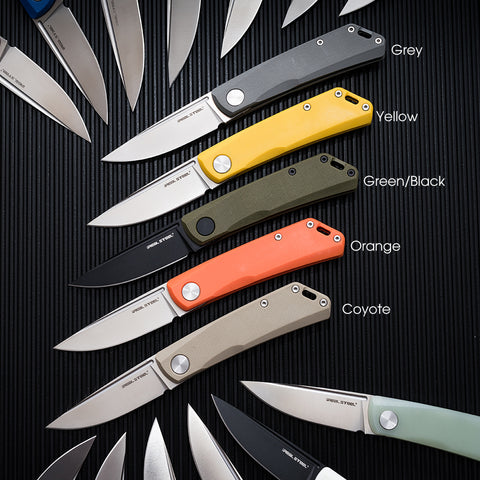 This was the end of the Luna story for a time being. We had a break from the Luna to expand on other projects, however, the Luna was to make a comeback in early 2021.
| | | |
| --- | --- | --- |
| Partner | Model | SKU |
| Heinnie Hayes | Luna, G10 Red, Heinnie Haynes Exclusive | 7011 |
| Blue Ridge Knives | Luna, G10 Black, BRK Exclusive | 7012 |
| Jusaya Knife | Luna, G10 Coyote, Jusaya Knife Dis Exclusive | 7013 |
| Jusaya Knife | Luna, G10/CF, Jusaya Knife Dis Exclusive | 7014 |
| White Mountain Knives | Luna, G10 Natural, WMK Exclusive | 7015 |
| Boker | Luna, G10 Blue, Boker Exclusive | 7016 |
| Heinnie Hayes | Luna, G10 Red, Backwash Heinnie Haynes Exclusive | 7017 |
| Knife Center | Luna, G10 White, Black Knife Center Exclusive | 7025 |
| Knives and Tools | Luna, G10 Blackout KATO Exclusive | 7018 |
| Boker | Luna , G10 Green Black Boker Exclusive | 7019 |
| Messer & Co | Luna, Olive Wood, Messer & Co | 7021 |
| Altonaer Silberwerkstatt | Luna, Damascus/Olive Green G10 | 7024 |
| Rivers Edge Cutlery | Luna, Golden Ebony River Edge Cultery Exclusive | 7026 |
| Real Steel | Luna LITE, Black G10 | 7031 |
| Real Steel | Luna LITE, Yellow G10 | 7032 |
| Real Steel | Luna LITE, Coyote G10 | 7033 |
| Real Steel | Luna LITE, Brown G10 | 7034 |
| Real Steel | Luna LITE, Natural G10 | 7035 |
| Real Steel | Luna LITE, Orange G10 | 7036 |