Have you ever wondered what people mean when they say "EDC"? If you're someone who carries a knife with you every day, you're probably already familiar with this term. But for those who are new to the world of everyday carry or simply curious, let me be your guide. 
An EDC, short for "everyday carry," refers to the essential items that you carry with you on a daily basis - anything from your trusty phone and favorite pen to the contents of your purse or wallet. But for those in the knife community, EDC takes on a whole new meaning, encompassing the tools and gadgets we rely on for safety, survival, and even fidgeting. Whether you're a seasoned knife enthusiast or just starting out, there's no denying the value of a good EDC item. So let's dive in and explore the world of everyday carry together, from the construction of a knife to the specific characteristics you should look for in an EDC.
What is an EDC and Why Every Day Carry is Essential
For those who regularly carry a knife, the term EDC may be familiar. However, for those who don't, EDC stands for "everyday carry." It refers to the items that we carry with us every day, such as our phone, wallet, keys, or even a pen. In the knife community, carrying an EDC also includes a folding or fixed blade knife, tactical pen, or flashlight, among others. These items serve various purposes, including safety, survival, or utility.
The Benefits of Carrying an EDC
Having an EDC, particularly a folding knife, can be beneficial in numerous ways. For manual laborers, a knife is a necessary tool to carry out daily tasks. A folding knife can also come in handy for corporate professionals when opening letters or packages. Additionally, for those who suffer from anxiety or stress, a folding knife can provide a calming and soothing effect as a fidget toy. Furthermore, an EDC folder can be useful for various activities, whether indoors or outdoors. In conclusion, carrying a folding EDC can be essential in everyday life, providing benefits such as convenience, safety, and utility. Whether you're a knife enthusiast or looking for a reliable tool to have on hand, a folding EDC is a must-have item to consider.
This is what to look out for
In the world of everyday carry (EDC) knives, craftsmanship and aesthetics are everything. These versatile tools can embody a wide range of styles, from bold and aggressive to sleek and stylish, and every design element plays a critical role in their overall performance. At the heart of any knife lies a complex interplay of factors, including the blade's steel, locking and opening mechanisms, handle material, pocket clip style, blade shape, and blade grind. Each of these elements contributes to the knife's unique character, making it essential to evaluate each one carefully when selecting an EDC.
Blade steel: Is a crucial aspect to consider when selecting a knife. The primary factors to evaluate blade steel include:
Edge Retention: This refers to a knife's ability to maintain its sharpness during use.
Toughness: This is the resistance of the blade to chipping or breaking.
Corrosion resistance: Is crucial as corrosion does more than just affect the appearance of a knife. It can cause the blade to become dull, create pits, and even compromise the structural integrity of the knife.
Ease of Sharpening: This refers to how simple it is to remove material with a sharpening stone.
The Real Steel Phasma Premium is constructed from Bohler M390 steel. This exceptional steel boasts an outstanding resistance to corrosion, ensuring that the knife can withstand even the harshest of environments without rusting or corroding. The knife also has remarkable edge retention, allowing it to maintain its sharpness even after prolonged use. However, the price of different steels can vary greatly depending on their properties and the manufacturing process involved. For instance, steel with high wear resistance is more expensive to produce as it requires more abrasives to grind it down. Similarly, steel that is high in carbides cannot be stamped out and must be cut using a waterjet or laser, which adds to the cost and time involved in production. In contrast, steels that lack these desirable attributes are generally much more affordable.
A locking mechanism is an essential component of folding knives that ensures the blade stays securely in place when open. There are several types of lock mechanisms used in folding knives, each with its unique features and benefits.
The most common types of lock mechanisms used in folding knives include the liner lock, frame lock, back lock (lockback), crossbar lock (slide lock), compression lock, button lock, and slip joint. 
The liner lock features a tensioned piece of metal that slides into place as the blade pivots into the open position, butting against the blade's tang. Similarly, the frame lock uses the frame of the knife itself to lock the blade open. 
The lockback mechanism utilizes a groove on the blade to hold a moving lever, and a stopper to prevent the blade from moving too far or wobbling when it is open. Depressing the back lock enables the notch in the blade to clear for closure. 
The crossbar lock is entirely ambidextrous and intuitive in operation. Pulling back on the slide lock bar creates sufficient clearance for the blade to swing open or close.
The button lock relies on an internal plunger system responsible for lockup in open and closed positions. Pressing the button releases lockup and allows spring tension (automatic knives) to take over. 
Lastly, the slip joint knife is a non-locking knife that uses a tensioned back bar to hold the blade in the open or closed position.
Overall, all knife lock types are robust enough for general everyday carry use. However, the best systems tend to emphasize one-handed operation for deployment and closing.
their functionality and ease of use. There are several common types of openers used in folding knives that serve different purposes.
What opening mechansim are there?
The opening mechanism is an essential feature of folding knives, which greatly affects
One of the most popular opening mechanisms is the thumb stud, which is located on the blade of the knife. The thumb stud works by providing leverage on the blade, allowing for easy one-handed opening. With a quick flick of the thumb, the blade can be quickly and easily extended for use.
Another popular opening mechanism is the flipper. Flippers are designed to create leverage closer to the pivot point of the knife, which helps to open the blade more smoothly and quickly. To use a flipper, the user simply pulls back on the tab with their index finger, causing the blade to snap into place.
A nail nick is another type of opening mechanism commonly found on folding knives. It is a small groove located on the blade that allows the user to easily grip and open the knife with their fingernail. While not as fast or convenient as other opening mechanisms, nail nicks are reliable and easy to use.
Finally, a thumb hole is a circular cutout on the blade that allows the user to easily open the knife with either their thumb or another finger. This mechanism is particularly popular among those who prefer a more minimalist design, as it doesn't add any additional parts or components to the knife.
Overall, the type of opening mechanism you prefer will depend on your personal preferences and the intended use of the knife. Whether you choose a thumb stud, flipper, nail nick, or thumb hole, the opening mechanism is an essential aspect of any folding knife that helps to make it more efficient and effective in everyday situations.
What typical handle materials are there?
It's equally essential to give consideration to the handle material, as it plays a critical role in the knife's performance. With a variety of options available, it's helpful to understand the distinct qualities of each type.
1. G-10 is a popular choice for its lightweight and durable qualities, making it resistant to corrosion.
2. Carbon fiber is considered a premium option due to its smooth texture, lightweight feel, and overall strength 
3. Titanium is an ideal choice, for a strong and lightweight option that is also anti-magnetic.
4. Micarta may be the best choice for you, if you are looking for a handle with a grippy feel and durability.
5. Aluminum is a versatile option for those seeking affordability, anti-magnetic properties, and customizability.
6. Stainless steel handles are also an affordable option that is both weighty and durable.
7. Polymer handles offer an affordable and practical solution.
There a lot more than that for example Damascus G10, FatCarbon, Titan Damascus etc.
When it comes to selecting the best handle material, it's always best to try out a knife with the desired handle in person. This will give you a better understanding of how the material feels, its weight, and texture. With the right handle material, you'll be able to optimize your knife's performance and overall user experience.
The different pocket clip styles
-regular style, which is functional and traditional
-deep carry style that hides the knife completely in the pocket
-milled style that offers a custom feel and is less prone to bending
-carabiner style that is great for attaching to bags and gear
-wire style that is minimalist
Pocket clips are available in tip-up and tip-down styles, which indicate the direction of the knife's tip when it is closed. The great thing about the variety of knife options available today is that you can find the perfect match for your pocket! 
Blade Shape Overview:
There are several common blade shapes found on knives, including:
Drop Point: known for durability, versatility, and effectiveness at stabbing
Clip Point: a traditional blade shape that is ideal for detailed work and stabbing
Tanto: a strong and piercing blade shape that is popular in tactical settings
Spear Point: symmetrical and balanced, making it ideal for stabbing
Wharncliffe: a versatile blade shape that is known for its power
Sheepsfoot: a maneuverable and non-threatening blade shape that is ideal for work-related tasks
Standard: a utilitarian blade shape that is versatile and effective for both slicing and stabbing
Hawkbill: a distinctive blade shape that is often used in tactical and utilitarian settings
Reverse Tanto: a durable blade shape that is based on traditional design
Trailing Point: an excellent blade shape for tasks such as slicing, stabbing, and skinning.
When choosing a knife, it's important to consider the blade shape as it plays a critical role in its functionality. Make sure to assess your intended use before selecting a blade shape that suits your needs.
Overview over the blade grinds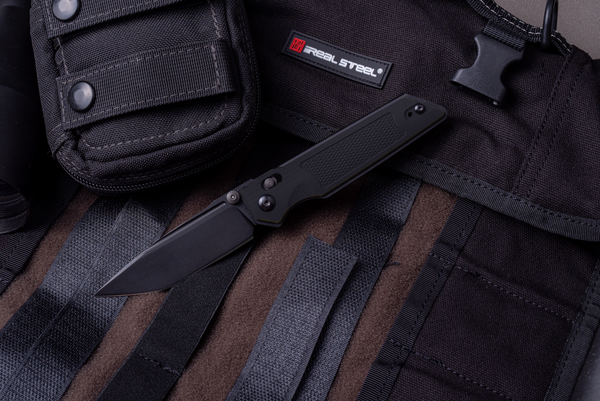 Hollow grinds are ideal for achieving sharp edges, featuring a concave curve from a point below the spine down to the cutting edge.
Flat grinds, on the other hand, are great for general use and whittling, and feature a symmetrical V-shape that runs from a point below the spine to the cutting edge. 
Scandi grinds are often found on outdoor bushcraft knives and have a rectangular, unground shape until part-way down the blade, where the grind turns into a V.
Convex grinds have a sturdy edge due to the thicker steel behind them, and instead of a concave grind that minimizes the material near the edge, the convex grind places the maximum amount of material at the edge.
It's important to match the steel of the blade with the grind when trying out a new blade. For example, if you're interested in a convex ground bushcraft knife, make sure the steel matches in durability.
In conclusion, carrying a folding EDC knife is an essential tool for everyday life, providing benefits such as safety, utility, and convenience. When selecting an EDC knife, evaluating the blade steel and locking mechanism is crucial to ensure that you have a reliable and durable tool that can withstand even the harshest of environments without rusting or corroding.