Back at the end of 2019, a very bemused Real Steel employee was wondering why we have so many samples in the office that are in perfect condition and that nobody has seen. This was the spark that ignited the fire in the Real Steel office and then the factory. As we make a tremendous number of knives in all different formats and finishes we have to do a lot of market testing on this. However, even knife market testing doesn't do the trick 100% of the time. This often leaves us with a problem, how to come up with the best variants of Real Steel products you love and know, without asking each and every one of you. The result is making a huge number of knife samples, in each and every configuration pushing the ones we know out to the market and holding back on some we are uncertain about until we know you want to see them. This was the case with the Rokot, Gslip Luna and G5 Metamorph. It is because of this that these four models feature the most in the Sample Division lineup.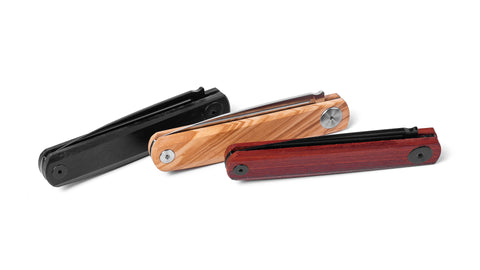 Gslip Wood Selection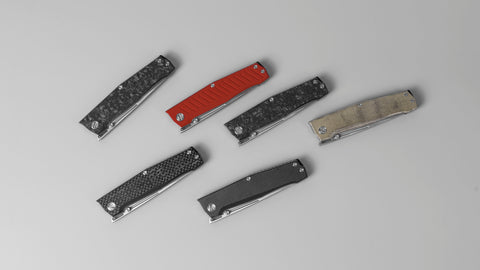 Rokot Handle Selection
But so what, you make a load of samples. Every knife brand does the same, what's different at Real Steel Knives? When we started the Sample Division, we just had knives that were in the office, in mint condition but without a home. Once we got through this batch, which comprised of Phasma Red G10, Rokot CF, and Gslip Ebony we became more adventurous. Generally speaking when we make a batch of a new model we are talking thousands of units per knife variant. This is where the adventurous part came from. We decided to make much smaller batches 12-24 per batch, dedicated entirely to the Sample Division. Knife variants that maybe not everyone liked, but a few of you would, making complexity in variations the forefront of what we did in the Real Steel Sample Division. Then we found FatCarbon.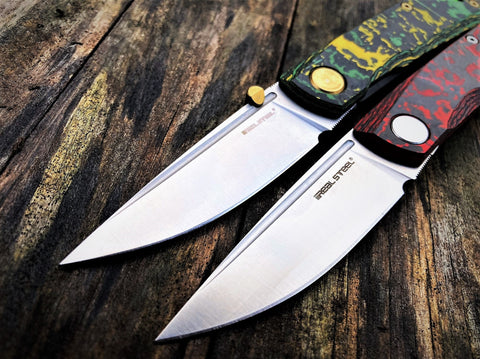 FatCarbon was a carbon fiber we had been eyeing up for a long time to be a part of a new Real Steel knife series. FatCarbon is a composite carbon fiber that uses a fantastic plethora of colors and styles to take carbon fiber, which is very much otherwise tactical and makes it completely EDC. There are a large number of choices to make knife handles out of at FatCarbon and we were honestly spoiled for choice. This was the next step of our adventures in the Sample Division. We wanted to raise the bar of what could be done in knife handle making but without passing on too much of the costs. FatCarbon models are expensive, but they are not going to cost you your wallet, you will just be able to buy one knife this month instead of the three that you had planned. After seeing the reaction to the first batch, we decided we would make this a part of the Sample Division knife lineup for the foreseeable future. The Sample Division is now a mix up these unique knives with a the homestay FatCarbon.